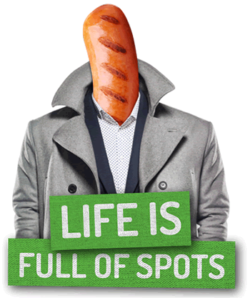 Textilreinigung Pinguin in Berlin

For some it's just a blouse, for us it's your favourite. The Textilreinigung Pinguin treats every garment as if it were your dearest.
Your white blouse got a stain, your suit and silk tie need a cleaning? Our dry cleaning service takes care of the cleaning and washing of your clothes. Full chemical cleaning and textile care is recommended especially for sensitive materials such as silk or wool. In contrast to a washing machine, it protects the fibres and ensures that your clothes remain wearable for a long time with the right care.
Is your daily pile of washing at home or in your company getting out of hand? Save your precious time and hours of housework and let our laundry do the work for you.On request, our staff will also pick up your laundry and return it cleaned.
zurück.
From suit trousers to winter coats
Dry cleaning and a competent laundry service are particularly beneficial for high-quality garments. A suit or an expensive dress will lose its shape in a washing machine. In addition to festive clothing, there are other textiles that do not tolerate washing with water or spin-drying. For linen, silk or wool, dry cleaning scores highly. In order to keep the leather supple and to freshen it up, experience with leather cleaning and care is needed. Certain types of laundry only require thorough cleaning at regular intervals, such as winter coats, down jackets or your favourite hat. The label inside your garments will tell you whether they tolerate washing with a normal washing machine or water.
While for one fabric water is problematic, for another it is the washing machine's size that causes difficulties: carpets or curtains cannot be washed or dried in every household. In such cases, the Textilreinigung Pinguin will help you with carpet cleaning or curtain washing.
Blouses, shirts, trousers, suits, skirts, dresses, coats or jackets - we ensure that your laundry and wardrobe will shine fresh and clean again. Beyond the usual clothes we also take care of:
As an experienced textile care and laundry for private and business customers in Berlin, we can look back on more than 50 years of success in the treatment of textiles. We are the dry cleaning company in Berlin, which offered a solution for many hopeless stains already and put a smile on many hopeless faces.
No ironing, no stains and long-lasting enjoyment of the clothes
Nowadays, a variety of different materials and processing methods are used for clothing. The right cleaning and care method must be selected for every material and every type of stain. The professional care and cleaning of your laundry will keep it fresh and in shape for years to come. You save time when you do not have to wash, iron or even search for the right stain remover. The care of demanding materials is best taken care of by experienced specialists. Because a small mistake such as a wrong wash can ruin the garment's fitting or even make it unwearable. In some cases, a tailor helps to iron out the flaw. However, it is best to use professional cleaning right from the start in order to prevent such errors.
The owners associate special memories or feelings with some items of clothing. Therefore, it is all the more important to rely on a dry-cleaning service that you trust and that treats all garments with the necessary care. The Berliner Textilreinigung Pinguin is aware of this responsibility. Besides your time saving and the sustainable handling of your clothes, our professional textile cleaning takes into account the environmentally friendly and efficient use of detergents. We offer you:
The perfect cleaning and care of your textiles
Textile care of demanding materials such as leather
Save yourself the time-consuming search for a cleaning or a laundry service in Berlin and come straight to the Pinguin Textilpflege. With Pinguin Textilpflege you get everything you need from a modern dry cleaning service in Berlin. Let us convince you of our excellent price-performance ratio, our quality, our service, our cleanliness and our reliability.
With our four branches of Pinguin Textilpflege in the entire Berlin city area, we are also represented in the vicinity of your place of residence or workplace.
We look forward to your visit and your orders.