Wedding dress cleaning in Berlin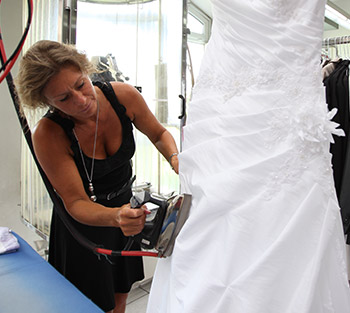 Wedding dresses often consist of many different and particularly sensitive materials, many of which require different treatments. In many cases, there are additional pieces sewn onto the dress, which are not washable at all. As a result, many brides are not able to clean their dresses after the wedding. Unfortunately, most dresses are hardly presentable anymore without a wedding dress cleaning. This would be extremely sad, especially because of the many good memories that are connected to these delicate clothes.
That's why we will treat your wedding dress particularly carefully and lovingly. If the fabrics are not washable together, our highly professional staff will separate them from each other to clean the more sensitive applications by hand. Once the cleaning process is complete, we'll sew it all back together. We guarantee you that your dress will be left in experts hands with us.