Textile cleaning services - all services at a glance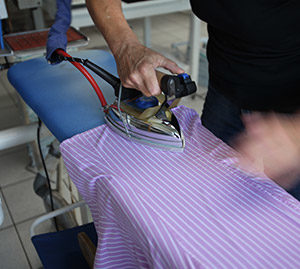 For our customers, clothes are more than just fabric and material. One's favourite piece can also convey a feeling of fashion consciousness and self-confidence or simply be a reminder of a special event, the outfit was worn to in the past. For companies, the work clothes serve as a uniform to express the values of their business. Well maintained and clean clothing exemplifies respect towards customers. Our team is well aware of this and, since over 50 years, we take care of any piece of clothing with lots of love for detail. Our colleagues take care of your laundry and clean every piece at the highest level. No matter whether it is the favourite cuddly toy of your children or your working clothes, our goal is to restore each piece to an "as new" condition.
Depending on the fabric, there are different methods for textile cleaning and textile care. For sensitive materials, we recommend dry cleaning. This protects the fibers of the fabric by using solvents instead of water. Wet cleaning requires water and certain specific additives, depending on the material of each piece. Another method is the conventional washing with a machine or by hand. Of course, we include the ironing of your clothes into our process of professional textile care.
The right textile care
Wedding dress, suit, cuddly toy or working clothes - each piece of clothing is made out of different fabrics which make various demands on the textile care. A professional textile cleaning company chooses the appropriate method to take care of your laundry. You, however, spare yourself some work, expense and time. Your clothes will be as good as new after our quality cleaning. Concerning spot remove, please inform our employees as detailed as possible about the cause of the damage.
Another range of services of the Pinguin Textilpflege is the cleaning of work clothes or any other laundry that may be required. Hotels, restaurants, hospitals or nursing homes that do not use rental laundry have a large mountain of laundry to clean every day. In the industrial or trade sector, the main focus is on workwear, which is made up of functional textiles depending on the area of work. These cannot be cleaned in every washing machine. In the hotel or catering sector, other laundry such as towels or tablecloths are required. Ironed stain-free napkins and tablecloths are crucial for the first impression. In homes for the elderly or nursing homes, equally high hygiene requirements apply. For such cases, Pinguin Textilreinigung offers an individually tailored service for business customers that meets the relevant requirements.
Our services in textile care
We offer professional textile care for private and business customers. In addition to the professional cleaning of sensitive pieces and materials, we also clean stains for you or do everyday laundry in our branches. Our services include
the care of high-quality materials
individual solutions for private customers and companies
delivery service
dry cleaning and laundry
If you wish, our staff will pick up your laundry or you can visit us in one of our four branches. You can find our stores at several central locations in Berlin like the train stations Alexanderplatz and Friedrichstraße. Depending on the location, we are there for you with opening hours from 6:30 to 20:00 o'clock. Our opening hours allow you to drop your clothes off before your regular working hours and pick them up in the evening, when your shift is over. We are looking forward to welcoming you at one of our branches.