Textile cleaning after fire or water damage
We offer all services of textile cleaning after fire damage or water damage from one source. Our main focus is to provide a fast and comprehensive service. Usually, we are able to pick up damaged textiles, such as curtains or carpets, within 24 hours of contacting us.
We transport the sanitizable textiles to our head office and start cleaning as soon as possible. We permanently remove odours, dissolve soot and remove damage caused by extinguishing water. If you use our express service, we will be able to return the first fresh textiles the very next day so that you or your customers can find their way back to their familiar surroundings as quickly as possible. Especially in the stressful situation caused by the fire in your own home, it will be very reassuring to have some of your belongings back early and fresh after cleaning. If there is no storage space at the time of return, we will also provide clothes boxes or can store textiles such as carpets or curtains until the lost furniture has been replaced or a new place to stay has been found.
In the case of fire- or water damage restoration of damaged textiles, we proceed very carefully and with great professionalism in our laundry. We use a very special procedure to treat the dirt. We do not remove the odours of the fire by conventional washing and the use of liquid solvents, but by a special ozone process. Ozone is an oxygen molecule consisting of three oxygen atoms (O3). The normal oxygen molecules in the air consist of only two oxygen atoms (O2). This gives the ozone the ability to react with the smell of burning in the textiles and to extract them and remove the soiling.
Besides the smell and the soot, the extinguishing water is also a big problem because it even damages in two ways. First of all, it exposes the clothing to moisture over a long period of time, causing the fibres to swell - the result is shrinkage. Extinguishing water can also contain additives to improve its extinguishing effect.
However, these rarely improve its effect on textiles. Water can also absorb a wide variety of substances on its way through the ceilings and floors of a house, which can then settle in the textiles.
Therefore, an intensive carpet cleaning is usually necessary as well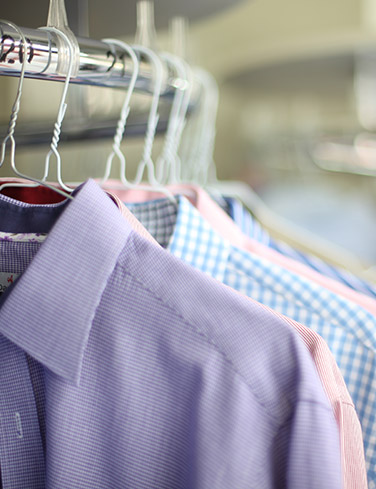 The indirect effect occurs when the textiles have been exposed to moisture for a long time. Mould forms and the textiles become crumbly. Since the mold grows organically into the textiles and feeds on the fibers, it is difficult to eliminate it sustainably. Our cleaning methods can have a deep and lasting effect on the fabric and permanently eliminate the mould
Thanks to our experienced employees and the modern and environmentally friendly cleaning procedures, we are able to successfully remediate over 90% of the textiles we receive. Even the finest fabrics such as silk and acetate have a good chance of recovery. If there are parts that turn out not to be salvageable during the process, we will of course not charge you for them. We would be pleased to be able to help your customers as well. Give us a call and we will prepare an individual offer for you.
If you wish, we can also settle all costs directly with the insurance company. All we need is a declaration of assignment in order to submit the invoices to the insurer. Since we have been working in the field of post-fire restoration for a long time, there are usually no problems with the billing of the respective insurance.